How to Marry a Millionaire/B,B+
Fox/1953/105/ANA 2.55
I rather enjoyed this exercise in grandiose use of color and breathtaking costume and set design. Three girls sublet a luxurious New York apartment on an elite street to serve as their web for snaring rich husbands. Schatze Page, is the sophisticated ringleader with taste and hunger. The sometimes model thinks she knows what she wants and is unwilling to let her heart lead her head. Miss Pola Debevoise is her blonde buddy who can't see farther than the tip of her nose without her thick eye glasses in place. Loco Dempsey is the pert, energetic friend of Pola invited in to help tend the web.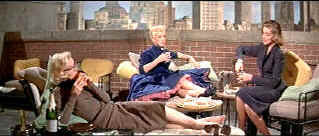 Stretching their dollars like so many garter belts. ©Fox
Director Jean Negulesco does an adequate job of integrating the stories of the three girls. Monroe is a riot as the nearly blind blonde Debevoise. She blithely bumps into walls and closes in on objects with her nose in near-sighted examination. Monroe was a very talented comedienne. I forgot what a neat package Betty Grable was stuffed into tight fitting outfits. I was surprised how much good comedy is incorporated into the thin script. William Powell is a welcome foil for the girls as the Texas millionaire with eyes for Bacall. There's one cute Bogey joke, one cute Harry James joke, but the best humor falls on Monroe's gloriously ditzy blonde. She could bump into me any old time
The Street Scene overture performance written and conducted by Alfred Newman that opens the film seems totally out of place and is likely an attempt to brag about the big screen image and stereo sound theater capabilities. You won't miss anything by chapter skipping.
The three stories and three ladies are neatly tied together in this very wide colorful Cinemascope production. The transfer elements are happily in excellent condition, providing the DVD with stores of clean energy. Color is stable save for minor pulsing in scene transitions. Costume colors are detailed in noise free style and set decor is presented with immaculate detail. The girls are available for full bandwidth examination. Presented in Dolby Digital 4.0 surround sound.


Selections from the Feature Archive include articles on Akira Kurosawa, Frank Darabont, Blonde Bimbos, Hollywood Street Gangs, or Vietnam: The Hollywood Pariah, and many more....


Watching Movies or Watching Video
Don't lose sight of why you bought that DVD in the first place.



DVD Demystified makes it all clear. The official Internet DVD FAQ for the rec.video.dvd Usenet newsgroups.
---


Information on film sound in theaters and home theaters. Lots of helpful information provided in a handsome interface.
---


Films of the Golden Age is
a showcase for special feature articles on film people and Hollywood history, all illustrated with beautiful photographs and classic movie art.
---


Easy to use interface with lots of vintage posters for sale.
---