How Stella Got Her Groove Back is a likeable romance about a forty year old woman falling in love with a twenty year old hunk while on vacation in Jamaica. The Jamaica locales are beautiful, as are those of San Francisco. The characters are very engaging and it's nice for a change to see an older woman involved with a much younger man.
Angela Bassett has such screen confidence it's a pleasure to watch her perform. Bassett makes Stella go. She's the sun around which everything revolves. Taye Diggs is very appealing as Winston. He is able to charm audiences with the same ebullience that capture's Stella's heart. I must say that Bassett does not look significantly older than co-star Taye Diggs; as a result, all the comments and significant looks regarding the age differential lose some of their significance.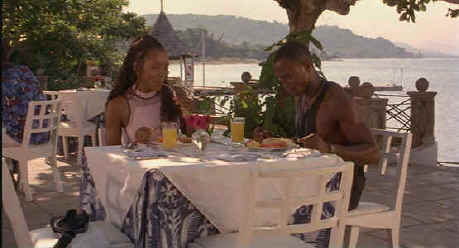 Breakfast in paradise©Paramount
While the main players are fun to watch, the surrounding characters are cliché. Whoopi Goldberg has good energy as Stella's best buddy, but she is not given much to play. Regina King and Suzzanne Douglass playing Stella's sisters are given the impossible task of making flesh and blood out of cardboard.
Kevin Rodney Sullivan directs How Stella Got Her Groove Back with confidence, but Stella drags on too long. Some of the scenes seem to be nothing more than reinforcements of earlier scenes. Crisper pacing and less sentiment may have helped take Stella to another level. The humor, too, fails to find a universal tone. Scenes that I know were meant to be hilarious fall flat for me. How Stella Got Her Groove Back is easy to enjoy on a limited level, but I kept wanting more from the characters.
Those Jamaica vistas look smashing on this well transferred DVD. Colors come to tropical life. Images are sharp from start to finish. High contrast is ratio creates a pleasing picture with maximum punch. Michel Colombier's music adds a smooth presence on this Dolby Digital 5:1 encoded DVD. The package lists a featurette as one of the extras but I couldn't find it on the DVD.