Harry Potter and the Sorcerer's Stone (SE)/ B+, A
Warner/2001/152/ANA 2.35
Harry Potter and the Sorcerer's Stone conjures a glistening magical front, sparkling enough to provide amble wonder for both children and adults. A finely tuned preamble sets up of the world of Harry Potter with startling economy. The magical style is a great precursor of what follows. Young Harry's adventures appear to begin with an elegant wave of a magic movie wand.
Harry is one of the chosen born, a special group of children destined to practice the art of wizardry. Orphaned in infancy, Harry is delivered to the home of his aunt and uncle for what turns out to be a Cinderella upbringing. But, on his eleventh birthday, Harry's life turns around with a visit from the powerful wizard gamekeeper Hagrid, and an invitation to enroll at Hogwarts School of Witchcraft and Wizardry. And so the adventures begin.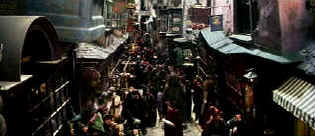 A magical mall through a stone wall. ©Warner
The first half of the film is so brilliantly inventive and full of discovery with breezy pacing that the second half of the film slows down considerably. Even though it is good, it pales in comparison. The film is long to be sure as well. It could have had a sharper focus with less peripheral action. A more distilled concentration would have produced a better film, perhaps not so faithful to the source material, but more effective. The world of Harry Potter is a brilliant creation of J. K. Rowling and Chris Columbus and his team of filmmakers have done a wonderful job of realizing it on film.
Columbus directs with great verve. You feel it in the pacing, the little details. The scenes pulse with energy. The quality of the film scene-to-scene is very impressive. To achieve such consistency takes great determination on such a big production.
Steve Kloves' fine script does justice to the terrific material: It's intelligent, thoughtful, and never mean-spirited. The dialogue is natural and written with meticulous consistency. Background and character history is delivered through dialogue that never appears simply for expository necessity.
Visually Harry Potter and the Sorcerer's Stone is a fabulous trip. That first sight of Hogwarts is pure magic. Utterly fabulous production design by Stuart Craig. John Seale's cinematography is stunning. The combination of set decoration and camera lighting is reminiscent of the gold leaf illumination used to illustrate fine old fairy tale tomes. It took a very active imagination to create the details that make Harry Potter live. There are touches that will live floating in sweet memory like the sorting hat. Utterly charming indeed!
Daniel Radcliffe is outstanding as Harry. He has a wide-eyed innocent charm and never seems false. Rupert Grint who plays Ronald Weasley is a toe-haired charmer is would have fit right in with an Our Gang 1930s comic short. Hermione Granger is played by Emma Watson with a little too much starch in her dress. The grown-up actors do a particularly fine job of making Harry's world ring with authority. Robbie Coltrane is an outstanding Hagrid, Maggie Smith has the perfect walk down pat for Professor Minerva McGonagall, and Alan Rickman leers with real menace as Snape.
Harry Potter and the Sorcerer's Stone has been transferred to DVD with brilliantly precise detailed images. Color depth is incredible. The outdoor sequences are very bright with excellent contrast. This is a glossy picture. Blacks are delivered with deep conviction without sacrificing fine details. Nothing appears to wanting in the transfer. There are a huge range of lighting situations in Harry Potter and the Sorcerer's Stone; they all look quite splendid retaining a sense of authenticity. Surround movement is thoroughly enveloping. The music of John Williams lends itself to beautiful, open scoring and it's delivered with wonderful space on this DVD.
The Warner two DVD special edition designed its potion of supposedly magical extras with more care for flare than content. There is no running commentary from Chris Columbus or any of the other principals. (They were no doubt busily working on the next segment of Harry and friends.) Game-impaired special editions lovers may find some of the machinations needed to get through to aspects of the special features far too frustrating. Almost twenty minutes featuring numerous deleted scenes adds substance to the special edition in addition to 16 minutes of general interviews with film principals. Perhaps some fans will have a ball with the special edition, but I was ready to use my baseball bat as a magic wand.


Selections from the Feature Archive include articles on Akira Kurosawa, Frank Darabont, Blonde Bimbos, Hollywood Street Gangs, or Vietnam: The Hollywood Pariah, and many more....
Screen Voices



Screen Voices and style of delivery often stamp an actor's screen image indelibly. Click the lips to read more.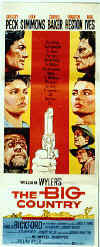 The Movie Poster Archive includes extensive poster images from the films of stars like Susan Hayward, Kirk Douglas, Katharine Hepburn and many more. Our featured star is Gregory Peck
---


The Adventures of Baron Munchausen/A,A-



Director Terry Gilliam's richly detailed interpretation of the outlandishly imagined and fabricated exploits of the legendary eighteenth-century German adventurer and storyteller.
---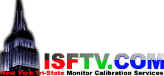 ISF Monitor Calibrations in the Tristate New York area. Lots of hardware info and frequent hardware peaks from video expert Kevin Miller. They may be judgmental, but that's the point, isn't it. Lots of DVD reviews plus news and more.
---


Excellent British based DVD review site that features Region 2 and Region 1 releases. Check out their fine interviews as well.
---


Manufacturer of computer-video interfaces, switchers, distribution amplifiers, computer-video scan converters, and high resolution cable. Found in many high end home theater systems.
---


Comprehensive DVD review database. Easy to use interface with specific region searches.
---
rner Herzog Film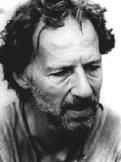 The Web site of director Werner Herzog includes lots of great material. A perfect stop for anyone who admires his films.
---