Danny Kaye is well cast as Hans Christian Andersen, the daydreaming creator of children's fairy tales. The colorful production includes the memorable songs Wonderful Copenhagen and Thumblina. With production design torn from the pages of a book of fairy tales, the film is delightful to look at even when the pacing slows to a crawl. Kaye has many fine performance moments, serenading and charming the children of Odense and Copenhagen, but his lovelorn moments are less than successful. Pining over a ballerina, Kaye and the audience alike must suffer through the screen romance between ballet master and prima ballerina played out by Farley Granger and Jeanmarie. Songs and plotting are interrupted by several overlong ballet sequences that freeze the action in a pirouette.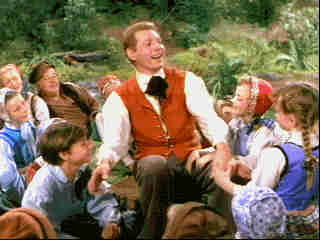 Hans weaves a tale.©HBO
Starting out in his local village Odense where he works as a cobbler, Hans finally musters up the courage to take the boat ride to the big city Copenhagen. While Copenhagen is treated to the magic tales of Andersen, the children of Odense miss their friend. When Hans realizes that his love is unrequited, he returns to Odense and finds that is really where his heart and art thrive.
The colorful production is preserved on lovely film elements making for a lively DVD. Some slight color pulsing exists on the original materials, but it is not significant. The fairy tale colors of Copenhagen come to stunning life. Multi-colored period costumes are transferred to perfection, right down to the stitching and buttons. The mono sound is cleanly recorded with a pleasing range.