Gosford Park (SE)/ A, A
Universal/2001/137/ANA 2.35
Yes, of course, Gosford Park is a murder mystery, but its just an excuse for getting a closer look at the fascinating characters assembled at the opulent mansion of Sir William McCordle. Director Robert Altman gets my Fred Astaire Award for Gosford Park. Altman dances through the scenes with uncanny rhythm, making everything seem so effortless, like Astaire dancing up walls. Gosford Park is also Robert Altman's most relaxed film. Nothing strains. Everything flows with natural precision. It never fails to hold your attention and the multitude of characters live beyond celluloid reality.
The emphasis is not on the done it but on the who they are. It's a witty and satirical examination of the relationships between the upstairs and downstairs people that inhabit the world of Gosford Park, a early twentieth century classic British manor house. The interplay between the relatives of a once powerful financial family beginning to see the first frayed edges of change is perfect fodder for back-biting. Not to mention the natural back-biting of the downstairs crew.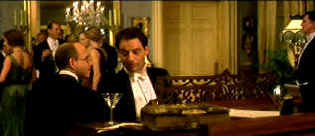 Actor Ivor Novello chats with Hollywood B producer Morris Weissman. ŠUniversal
Terrific ensemble cast is perfectly in synch with director Altman. One performance seems better than the next. You've gotta love Helen Mirren's fantastic performance as the center of the downstairs servants crew, housekeeper Mrs. Wilson. This woman really keeps this house running. She anticipates virtually everything. It's a great role. Upstairs maid Elsie likewise gets a stunning interpretation from Emily Watson. And Alan Bates as butler Jennings totally disappears into the role. Jeremy Northram has never been better than as the sort of outsider relative, Ivor Novello, a Hollywood leading man. Maggie Smith as her ladyship is droll to the nth degree and Kelly MacDonald as her maid is absolutely refreshing and and uncannily true.
Altman's peripatetic camera moves with unusually perfect grace and the signature overlapping dialogue of Altman's hasn't worked as well since M.A.S.H. Production design by Stephen Altman is wonderful. Costume design by Jenny Beavan is perfectly on target. It all meshes beautifully. This is a wonderful production from start to finish.
This DVD transfer of Gosford Park is a stunner. It looks good enough to have lit up theater screens, in focus too. The images are very sharp without being edgy. It perfectly clean. Color is slightly under saturated, reflecting the artistic intent. The lighting is meticulously captured. Blacks are lush. Details of the production are richly depicted. The 5:1 Dolby Digital mix is outstanding. Dialogue is perfectly enunciated and consistently discernible. The peripheral action integrates as more than a hum or blur but as multiple conversations.
Two commentaries grace the Gosford Park special edition. Robert Altman, ever uncomfortable about commentaries but growing more comfortable with each new one, provides his insights clearly on one track. Production designer Stephen Altman and producer/actor David Levy join Altman, adding a welcome addition to the commentary rhythm. The second commentary from screenwriter Julian Fellowes is historically informative. In addition to the commentaries, there are deleted scenes, a solid making-of featurette, an entertaining Q& A filmed in front of a Hollywood audience, and a short piece on the production details.



Selections from the Feature Archive include articles on Akira Kurosawa, Frank Darabont, Blonde Bimbos, Hollywood Street Gangs, or Vietnam: The Hollywood Pariah, and many more....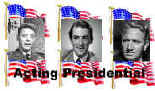 What actor would you vote whose screen persona best exemplified the fabric of the president of the United States? Check act Acting Presidential for a look at the many actors who have coveted The Oval Office.
---



ISF Course Instructors Jim Burns and Kevin Miller are hosting the Digital Film Forum. Join professionals and enthusiasts for lively home theater discussion.
---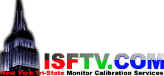 ISF Monitor Calibrations in the Tristate New York area. Lots of hardware info and frequent hardware peaks from video expert Kevin Miller. They may be judgmental, but that's the point, isn't it. Lots of DVD reviews plus news and more.
---
Brad Lang continues to add more interesting material to the extensive collection at Classic Movies. Everything from actors and actress to your favorite directors is linked at the site.
---

Click on the DVD MIA symbol for profiles of DVDs missing in action.
Add films to the DVD MIA Master List by filling out a simple form. Click Here
---