I love Westerns. There is something about the directness of that society, the good guys and the bad guys, that makes it easy to appreciate. These days, I rarely have the treat of a new and exciting "oater," so there's some reason to celebrate the arrival of one on DVD. Unfortunately, Walter Hill's sincere effort, Geronimo: An American Legend fails to capture the excitement of the West and never achieves dramatic strength. Detailing the Geronimo Campaign of the 6th Cavalry, the film seems little more than a series of tableau, many of them beautiful, representing the events surrounding the chase and eventual capture of the renegade Apache warrior.
Hill assembled a terrific team in mounting this production. The visual achievements are outstanding. Lloyd Ahern Jr.'s command of the camera is majestic. Period detail appeared to be the result of thorough research. Ry Cooder's score captures the power of the visual majesty, the force of the cavalry, and the mysticism of the Indians.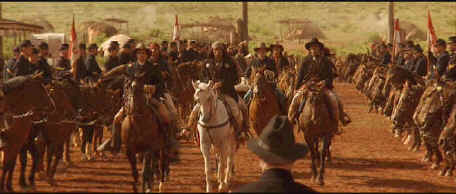 Geronimo surrenders to General Crook ©Columbia
The script does not give the actor's much chance of competing with the grandeur of the setting. Robert Duvall provides some interesting support in the role of Chief Scout Al Sieber, but Gene Hackman is surprisingly flat playing General George Crook. Wes Studi, so fine in Last of the Mohicans, just cannot handle this amount of screen time. He never generates the mystery or ferocity that Geronimo must exhibit to make this flick a go. Along with Studi, Jason Patric fails to carry the picture on his shoulders. Patric brings his typically moody presence to the role of Lt. Charles Gatewood, but Duvall is the only one with enough flare to shine through the Western dust. Matt Damon narrates and plays the innocent young officer learning all about the being a cavalry soldier and a man. His eyes stand in for ours.
The expansive vistas of Monument Valley are a prime source to show off beautiful cinematography and DVD is a prime tool for bringing those images to home theater. Geronimo makes an exquisite DVD presentation, subtly replicating the colors of the Southwest, capturing them in all their delicacy and power. With various lighting schemes, the outdoor scenes are consistently magnificent on this DVD. Film grain in the long lens shots is kept fine and tightly controlled. Images are sharp without ringing. The scraggly face of Robert Duval playing scout Al Sieber is a road map in fine detail, each pore and stubble of beard distinct. Accompanying the perfection of the images is an intelligent 5:1 Dolby Digital recording. The wind swirls in the surrounds, creating a sense of desert dust on the back of your neck. The mystic mood of Indian musical rhythms plays beautifully with an open and airy sound, just like the land of its origins. The sudden rapport of a rifle hangs in the air momentarily.