Fathom/ C+,C
Fox/1967/99/ANA 2.35
A frivolous action flick whipped up chiefly as an excuse to show off curvaceous Raquel Welsh in a variety of revealing outfits while she tries to untangle herself from a web of international jewel intrigue.
On a sky diving vacation in Spain, Fathom Harvill gets recruited to spy by some dubious quasi military types. Following orders, Fathom floats down into the lap of Peter Merriweather, a Hong Kong swifty on the scent of whatever everyone seems to be after. If Peter isn't enough of a challenge, there's the devious Russian Sergi Serapkin. Fathom gets to exercise her parachute wings, her water wings, and even dances with an angry bull. The one-liners are uninspired, but the setting is charming and the characters just far enough from blatant satire to keep Fathom on a even light keel.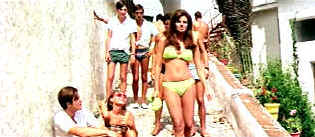 Welsh turns some heads in brief lime. ©Fox
Raquel Welsh does looks scrumptious draped across the widescreen. She handles her role with enough carefree abandon and self-aware sexuality to bring some entertainment to Fathom. Anthony Franciosa grins a lot and seems to be having a fine time cast in an unusual action role.
Leslie H. Martinson directs competently from a script by Lorenzo Semple, Jr. The cinematography is uninspired and the music adds little to the pleasures.
Transfer elements are not in terrific shape. Some color wear is evident and minor misregistration shows up here and there. Not that all those outfits Raquel Welsh wears don't come to life. Hers is the best shape in Fathom. Overall, this isn't a very sharp transfer. Even slightly mushy. Black level is all right. there's little strain on shadow detail since most of the scenes are brightly lit. The mono sound is rather harsh and slightly distorted. Not very pleasant.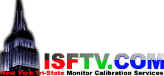 ISF Monitor Calibrations in the Tristate New York area. Lots of hardware info and frequent hardware peaks from video expert Kevin Miller. They may be judgmental, but that's the point, isn't it. Lots of DVD reviews plus news and more.
---


DVD Demystified makes it all clear. The official Internet DVD FAQ for the rec.video.dvd Usenet newsgroups.
---


Terrific resource for learning about the ins and outs of movie poster collecting.
---

ETEKNet is the web's only 24-hour, totally FREE source for all your home theater, DVD, Dreamcast, PC, and Networking tech support needs!
---


The National Film Preservation Foundation (NFPF) is the nonprofit organization created by the U.S. Congress to save America's film heritage.
---