Domestic Disturbance (SE) /C, B+
Paramount/2001/89/ANA 2.35
When Domestic Disturbance stays within the bounds of conventional domestic drama, it's actually pretty good. A family in flux, a child torn between his father and a new man in his mother's life, a small town with ample charm; no, it doesn't break any new ground, but it's reliable. But finally, like a psychopath unable to control events, Domestic Disturbance goes of the deep end without restraint.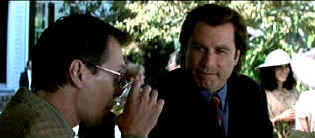 Wedding chit chat. ©Paramount
Domestic Disturbance is a well-made, edited and photographed film, but a pretty, skillful production is not enough. The script cannot live up to the pedigree of the production standards. Harold Becker's direction is competent, but he's limited by the contrivances of the script.
The cast puts out good work. John Travolta as divorced Dad Frank Morrison stays mostly charming and likable, though his behavior is not consistent throughout the film. Vince Vaughan gives the new Dad Rick Barnes a signature hint of something amiss. Teri Polo is sunny as Susan Morrison/Barnes. Steve Buscemi's Ray is one cool character and the impetus for things to change. Unfortunately, the post Ray scenario takes a deep plunge into improbability.
The script plays fast and loose with reasonable behavior. Are we really to believe the way Jason, the confused son, acts? How come protective parents don't put up a better fight when push comes to shove? Yes, the script tries hard to establish reason to doubt young Jason, but it isn't enough. I have a difficult time believing the way the characters behave; Frank's girlfriend, Frank's former wife, Frank himself, they don't ring true. Rick may be a psychopath, but he seems to be the most grounded person in the film. You have to hand it to Rick: this is one guy who can really keep his fighting cool even with a burnt up arm and a cracked skull.
Domestic Disturbance is turned out in first-rate DVD attire. Details and depth of image are delivered with glossy impact. The very stable stable transfer exhibits only minor edginess in some high peak transitional scenes. Light output is excellent in various situations. Black levels are excellent and shadow detail is in good balance. The color saturation is vital with a nice range for skin tones. The intense color is very pleasing.
The special edition features a scene specific commentary from Harold Becker, always a generous observer if not scintillating. There are also deleted scenes, storyboards, and a theatrical trailer.


Selections from the Feature Archive include articles on Akira Kurosawa, Frank Darabont, Blonde Bimbos, Hollywood Street Gangs, or Vietnam: The Hollywood Pariah, and many more....
Anthony Quinn


A larger than life screen presence brought joy to audiences for six decades. Anthony Quinn had a rare zest for life that was invested in many of his roles. Long live his memory. Click on the image for a look at his career.
---


Mother Night/A-/A-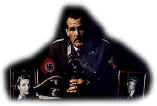 The eccentric style of Nick Nolte is perfect for the angst ridden Howard W. Campbell, Jr., a hero or a villain.
---



The National Film Preservation Foundation (NFPF) is the nonprofit organization created by the U.S. Congress to save America's film heritage.
---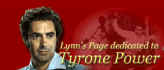 An elegantly presented fan site dedicated to one of Hollywood's great action stars.


Films of the Golden Age is
a showcase for special feature articles on film people and Hollywood history, all illustrated with beautiful photographs and classic movie art.