Contact/B,A
Warner/1997/150m/ANA 2.35
Astronomer Carl Sagan's novel about man's first contact with other worlds is given reverential screen treatment by director Robert Zemeckis. The magic seems lost in the casting. Jodie Foster is always wonderful and her astronomer Ellie Arroway is no exception, but Matthew McConaughey is flat as Palmer Jost, the spiritualist, quasi Scientologist, and limp love interest for Foster. Beautifully filmed, the scientific aspects of the film come to stunning life. It's unfortunate that the human relationships don't measure up.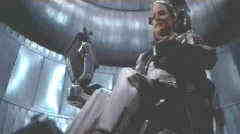 Foster in space. ©Warner HV
This is an exquisite DVD from Warner which uses RSDL dual layer technology for seamless layer changing. The visual details are stunning and come to vivid screen life. Color depth is magnificent. The anamorphic treatment gives Contact a fine line structure. The sound is another treat, with spatial details delivered in precise locations throughout a sound system. And Contact is a brilliant special edition as well, featuring separate running audio commentaries on track one from Foster, track two from Zemeckis and producer Stephen Starkey, and track three from effects specialist Ken Ralston. Theatrical trailers, effects designs and animation conceptuals are amongst the additional extras. A dynamite value.


The Feature Archive has articles ranging from Akira Kurosawa to Blonde Bimbos.


Movie Rage: Death in the Aisles
Everyone knows what it feels like to get angry at the movies these days. Here's a humorous but not so delightful view of big screen misery.
---

The Movie Poster Archive includes extensive poster images from the films of stars like Susan Hayward, Kirk Douglas, Katharine Hepburn and many more. Our featured star is Tyrone Power.
---

Click on the DVD MIA symbol for profiles of DVDs missing in action.
Add films to the DVD MIA Master List by filling out a simple form. Click Here