Writer/Director Ron Sheldon films like a ballplayer on an incredible hot streak with Bull Durham. From the moment he stepped up to the typewriter, to the pitch he made to sell the project, Shelton could do no wrong. Bull Durham is a breezy, elegant essay on sports and love. The script is major league all the way and Shelton filled in the blanks with a cast of players that make an unstoppable team.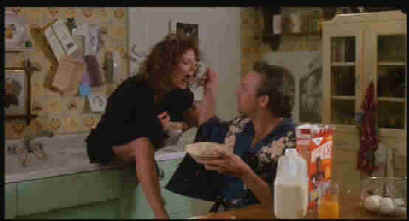 Wheaties, Breakfast of Lovers!.©Universal
The classic ingredients of romantic comedy play out inning by inning. Nuke Laloosh is a wild, untamed minor league rookie with arm powerful enough to cruise through eighteen strikeouts in his debut for the Carolina league Durham Bulls. He also walks eighteen batters and throws baseballs inadvertently at every target within shouting distance of home plate. Annie Savoy is a baseball romantic, a fan of extraordinary focus, equally adept at analyzing a batter's swing or his sexual proclivity. Every year Annie picks one Durham Bull for a special bonding, sharing her body and her passion to the tune of 144 games. The wild card is Crash Davis, a veteran minor league catcher closing in on the dubious record of the most home runs by a minor league ballplayer. Crash is demoted from Triple A ball to the Bulls for the sole purpose of honing the gifted Laloosh for the Major Leagues. Relationships develop from this opening line-up executed with strategic brilliance. Crash butts heads with Nuke, Annie introduces Nuke to another view of garter belts, and Nuke and Crash vie for the honor a Savoy season.
Kevin Costner eases into the role of Crash like an old baseball mitt sliding onto the hand of a perennial all-star veteran. Susan Sarandon mixes a heavy dose of Southern molasses with some educated sophistication to give Annie Savoy a trophy case of eccentricities. The big surprise is Tim Robbins in his first big role. He's consistently hilarious, showing off a gift for offbeat comic portrayals that has carried him through subsequent movies. A perfect dose of Robert Wohl as a loquacious coach adds some delightful pepper.
Shelton, a former minor league ballplayer himself, knows every inch of this playing field, and picks his team with perfect control. The bright, colorful cinematography and sensible production design communicated the world of the Durham Bulls splendidly. A blues and jazz score emphasize the world around the players, commentating on the action like an old pro sportscaster.Shelton shoes a special gift in bringing out fully natural performances from his team of actors.
The anamorphic transfer presents Bull Durham in its best uniform. With a comfortable contrast range, every lighting condition is beautifully transferred. Detail and color are presented with equal care. Colors are vibrant. Images are sharp with no obvious edge enhancement. Film grain is recorded tightly. The dialogue on the Dolby Digital 2-channel sound appears recorded slightly high. It may be a measure of the difficulty I had periodically with Susan Sarandon's southern accent The music fares very well. You may have trouble keeping your tapping feet still. An enthusiastic second audio commentary by Ron Shelton is included on a separate track.. "I have never seen a movie in which the quality went up as the budget went up," is the kind of statement that reflects Ron Shelton and it clear in his filmmaking as well. There are lots of baseball details, production smiles, and above all, Shelton is thoroughly engaging.