Bride of the Wind/C+,B+
Paramount/2001/99/ANA 1.85
Bride of the Wind is the story of Alma Schindler Mahler, a free-spirited Viennese woman who served as inspiration to a number of famous men of her time. Muse to composer Gustav Mahler, captured on canvas by Gustav Klimpt and Oscar Kolkochka, Alma also won the heart of architect Walter Gropius and poet/novelist Franz Werfel. Sounds like she must have been one exciting woman.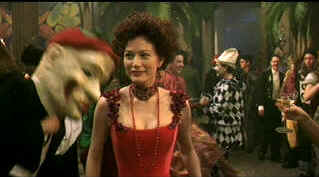 Alma surveys the Vienna scene. ©Paramount
Directed by Bruce Beresford, the film starts out in colorful fashion recalling the excitement of turn-of-the-century Imperial Vienna, capturing a scent of the streets and opulence of its balls, but it quickly retreats into the dark interior confines of the various homes of Alma Mahler. The story never manages to soar with the music. Alma is a rather pathetic character She certainly fails to live up to her lofty reputation. The music, especially Mahlerís, is often wonderful, but itís luster fades under the heavy mantle of an all-too reverent script. Even the art that is much on display fails to excite the imagination.
Sarah Wynter is appealing as Alma Schindler Mahler, but she's rather boring. Is this the woman who lit a passionate fire under so many famous men? Wynter lacks the fire needed to communicate such an independent spirit. Jonathan Pryce is amazing as Gustav Mahler. With very little apparent make-up he's a doppelganger for the composer. Pryce delivers a precise portrait of the artist, strangely sympathetic considering this is really Alma's story. Oscar Kolkolhka is played by Vincent Perez with rather artificial passion and Walter Gropius gets an effectively cold architectural performance from .
The Dolby Digital 5:1 sound track delivers the sections of beautiful music with an open, enveloping sound stage. It's equally adept with the big orchestral pieces and the intimate piano passages. When director Beresford chooses to turn on the visual charm, the DVD looks quite lovely. Colors spring to life from the screen. The ball scene is a delicious explosion of color, boldly saturated yet tightly controlled. Most scenes are quite sharp and shadow detail appears to be a reasonable representation of the artistic intent. Lush sets are polished with glossy precision.

Take a look at the merry images of America's gift to the movies: Hollywood Musical Posters are featured from The Movie Poster Archive.
---


Selections from the Feature Archive include articles on Akira Kurosawa, Blonde Bimbos, Frank Darabont, Steven Culp, John Herzfeld or Vietnam: The Hollywood Pariah, and many more....
The Bitch Brigade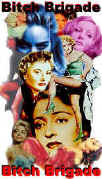 A line-up of lean-lipped actresses who marched through Hollywood in a high heeled goose step armed with razor sharp dialogue. Click on the image to read all about them.
---

---


Mother Night/A-/A-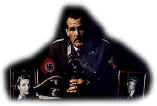 The eccentric style of Nick Nolte is perfect for the angst ridden Howard W. Campbell, Jr., a hero or a villain.
---

Click on the DVD MIA symbol for profiles of DVDs missing in action.
Add films to the DVD MIA Master List by filling out a simple form. Click Here