Bread and Roses/ A-,B+
Studio S/2000/105/ANA 1.85
Another in the long line of socially conscious dramas from director Ken Loach, Bread and Roses is a fine example of humanistic filmmaking. Loach's strong political beliefs can lead to some excessively pedantic filmmaking, and Bread and Roses suffers slightly from this, but overall the film is about the fine spirit of people.
A young Mexican woman, Maya, crosses the border illegally. Her sister Rosa awaits her arrival in L.A. and has a job waiting for her in a bar. Maya has other ideas and convinces her sister to help her gain employment as an office cleaning person for the agency where Rosa works. Maya is the spark that ignites change at the office building.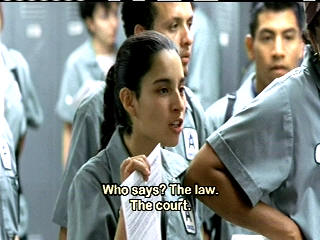 Confrontation time. ©Studio S
Maya's a terrific character. Her natural sweetness is complimented by an honest spirit. A gutsy immigrant woman willing to work hard, Maya wants more. She needs to feel a sense of freedom to let her spirit soar. There are too many people around her that have been trampled to the ground by the system. When she meets union organizer Sam Shapiro under extreme circumstances, she is inspired to fly like a bird.
Bread and Roses chronicles the union battle to win reasonable working conditions and wages at the office building where Maya gets her job. The pressures created by the union stance on each of the characters is delineated with sympathetic treatment.
Paul Laverty's screenplay moves in an elegant arc from a movie about illegals crossing the border to a union-themed movie. Romantic elements are tastefully integrated and family pressures are examined. The emotional fireworks between the two sisters is amazingly combustible. Maya's journey is a damn good one, from a illegal bus into the United States to an INS bus out.
Director Ken Loach comes from a documentarian's point of view. Most of the film is shot very straight forward. Wild hand-held camera work at the opening set me to worrying that director Loach has made a disastrous stylistic decision, but happily, there's only a couple of short instances more. script floats in a natural direction. Artifice has been parched from the pages.
Maya is played with lovely naturalness by Pilar Padilla in her screen debut. Padilla plays it like a real person. Director Roach knows how to extract natural performances from his players. Adrian Brody is very convincing in the role of union organizer Sam Shapiro. Elpidia Carrillo is powerful as Rosa.
Bread and Roses get good treatment on DVD from Studio Home Entertainment. Handsome color saturation contributes to the overall cinematic looking transfer. Light output is excellent with a good contrast balance. Black level is strong and shadow detail is properly revealing. Maya's short tenure as a bar maid provides some excellent looking colorful bar scenes. A few soft scenes but I think it stems mostly from the naturalistic style of filmmaking and some difficult focus pulling. Grain is impressively controlled. English titles are easy to read. In the upbeat dance sequence, the Dolby Digital 5:1 surround creates a fine ambiance.
Reviewed on a Sharp 9000VX DLP Projector


Selections from the Feature Archive include articles on Akira Kurosawa, Blonde Bimbos, Frank Darabont, Steven Culp, John Herzfeld or Vietnam: The Hollywood Pariah, and many more....|
Epic Images of Kurosawa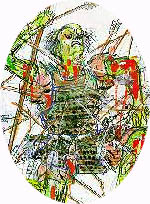 Click on the image above for an original view of Akira Kurosawa's work
---

The Movie Poster Archive include extensive poster images from the films of stars like Susan Hayward, Kirk Douglas, Katharine Hepburn and many more. Our featured star is Robert Mitchum
---


October Sky/A,A



Johnstonís glorious montage work accompanied by Marc Isham's stunning Americana score are reason enough for watching this exquisite movie.
---


Kinoeye Archive
This is a resource of all content-rich materials on the web relating to Central and East European cinema. The ultimate aim of the Kinoeye Archive is to provide a near-as-damn-it definitive index of intelligent and thoughtful English-language analysis of Central and Eastern European cinema on the web.
---

Have you visited Home Theater Talk lately? One of the friendliest places on the Net for Home Theater and DVD discussion, you can get help for installation problems or simply share your opinions with other Vidiots.
---