Black Dog is non-stop road action delivered in explosive style by director Kevin Hooks. Much like the ultra successful Speed, the set-up for Black Dog is simple, unwavering, and entertaining played out. Former ace trucker Jack Crews, working as a mechanic after a prison stint for vehicular manslaughter is offered a job he can't refuse:a one-way trip from Georgia to New Jersey with an unspecified cargo. Crews finds out his "dream" house is about to be repossessed and takes the job despite his wife's protest. Looks like Jack's gonna miss his little girl's basketball game.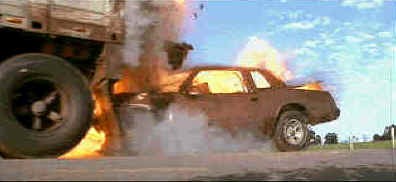 Trucks collide and cars explode. ©Universal
Mix in an undercover FBI agent, a kidnapping, and a team of hijackers with seemingly unlimited resources to juice up the action and that's Black Dog. The cinematography is top notch keeping the audience right in the middle of the action. Stunt work is outstanding lending an edge of reality to the otherwise far-fetched plotting.
Patrick Swayzee is convincing behind the wheel, playing Crews with a buzz cut and a sincere expression. Meat Loaf, the beefy singer/actor provides some entertaining moments as a bible spouting hijacker with a determination beyond the usual villain. And country star Randy Travis eases into the passenger seat of Crews' truck with charm. The actors are backed up in their interstate pursuit by lots of country music. One wonders what the box office was for this movie in "country" music territory.
Black Dog burns rubber with beautiful images. The outstanding transfer is highlighted by explosive transitions which light up the screen comfortably with flaring flames. The sharp images are not over-enhanced. Sound meets the video head on with terrific surround detail. I felt like debris was falling all over my home theater during the many car collisions. Black Dog is worth a try. It's exactly what is sets out to be if your looking for truck muscle with a sense of style.