It's hard to recommend anything about The Avengers, a banal movie taken from a clever television series. The crisp, wry situations of the 60s television series simply fail to develop in this inane screenplay. Inspired casting may have saved the film from disaster, but while the paper appeal of the players seems foolproof, the result is foolhardy. Uma Thurman lacks the sophistication of a Diana Rigg who played Emma Peel on television. And the costume designer didn't help much either. Uma fails to ignite the hot breath of potential young male audience. Ralph Fiennes is another matter altogether. He fails to muster any energy as John Steed. It's rather the reverse when he rattles off his pithy comments. Sean Connery would have made the better Steed. Instead he's locked in a preposterous villain's cloak playing a mad Scot bent on blackmailing the world through devious control of the weather. Connery and the production design are the most appealing aspects of The Avengers.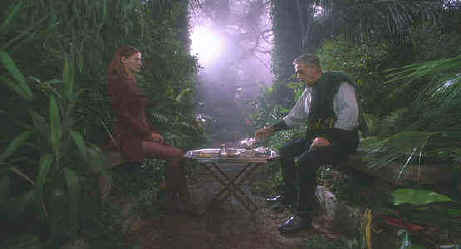 A spot of tea in the hot house©Warner
At least the DVD is outstanding. The anamorphic images are delivered with consummate style, almost emphasizing the lack of style in the film itself. Contrast ratios offer an incredible range making powerful DVD pictures. The Avengers is a very sharp DVD. Edge to edge detail is rendered impeccably. Color is outstanding, tightly controlled with no overlap fringing. Great sound on The Avengers too delivered in wide stage Dolby Digital 5:1 mix. Bass extension is crisp, dialogue icy clear.