Almost Famous/ A,A
Dreamworks/2000/123/ANA 1.85
Almost Famous is a fabulous movie: heartfelt, wondrously evocative of the period and attune to its characters. I appreciate it when a writer pours out his love on screen and clearly Cameron Crowe does this with Almost Famous.
Gleefully autobiographical, Almost Famous chronicles the initiation of young misfit high schooler William Miller who finds himself through music and writing. Miller gets his introduction to the music writing business from legendary rock rebel Lester Bangs. Bangs spreads out the rock writing gospel to Miller and then gives the kid an opportunity to write an article about one of his favorite bands for his rock magazine. Miller latches on to the band and the scene with innocence and an intrepid desire to find himself through the music and the writing. Between the back stage bickering, the wild parties, the groupies led by pretty Penny Lane, and the bus rides of the concert tour, Crowe paints with the colors of his subject matter. It's a great coming of age story that is both personal and captures an era. Bravo Crowe!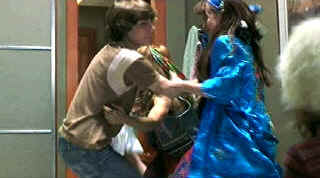 Your time has come, William. ©Dreamworks
The obvious affection Crowe has for his characters and the era makes for wonderful filmmaking. Even when his view may be satiric, it's never acid. Crowe brings a rhythm to his movie much like the music the band plays.
The casting is terrific. Patrick Fugit's William Miller takes a bit of getting used to with his pixie innocence, but Kate Hudson is refreshing as Penny Lane and Billy Crudup under-appreciated as heart-throb Russell. Jason Lee may be a bit loud, but heck, he's the band's lead singer after all. Francis McDormand centers the film like a crusty anchor as Miller's mother.
The DVD transfer of Almost Famous is almost perfect. Detail is captured with precision. There's no evident edge enhancement. Scene depth is outstanding. The colors are lively, fully saturated, and tightly controlled within their own space. A nice variety of flesh tones are depicted with subtle shadings. Blacks are rich and contrast and light output provide the DVD with plenty of pop Featuring both DTS and Dolby Digital sound tracks, Almost Famous delivers dialogue, music, and an accurate sense of sonic space with style and polish.


Selections from the Feature Archive include articles on Akira Kurosawa, Frank Darabont, Blonde Bimbos, Hollywood Street Gangs, or Vietnam: The Hollywood Pariah, and many more....
Puttin on the Ritz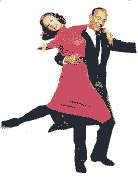 Fred Astaire and Cyd Charisse bring Silk Stockings to life, a remake of Ninotchka, one of many films successfully turned into musicals by the Hollywood dream factory. Read all about remakes into musicals by clicking on the divine dancers.
---

The Movie Poster Archive includes extensive poster images from the films of stars like Susan Hayward, Kirk Douglas, Katharine Hepburn and many more. Our featured star is Danny Kaye.
---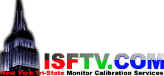 ISF Monitor Calibrations in the Tristate New York area. Lots of hardware info and frequent hardware peaks from video expert Kevin Miller.They may be judgmental, but that's the point, isn't it. Lots of DVD reviews plus news and more.
---

Jim Doolittle
ISF Instructor. Premier calibrator and expert front projection system setup technician in the Boston area.
---


DVD Demystified makes it all clear. The official Internet DVD FAQ for the rec.video.dvd Usenet newsgroups.
---