Adventures of Rocky and Bullwinkle/B-,B+
Universal/2000/92/ANA 1.85
Yet another resuscitated television show comes to the big screen, this time taking an animated program and morphing it into a live action combo. The live action and cartoon blend very effectively and when The Adventures of Rocky and Bullwinkle stays to a satiric course biting at Hollywood's toes, it's really lots of fun. Unfortunately, it doesn't follow this road for very long. The laughs get detoured by typical Hollywood overproduction, spending too much time on gadgetry and not enough time on clever dialogue.
The plot is even too silly for a bunch of comic characters to successfully dance around. Rocky and Bullwinkle roam down the information highway right into a National emergency. The dynamic duo maintain their cartoon integrity while Fearless Leader and his cohorts ooze right out of a television set and become real people. The bad guys conveniently arrive in a hungry Hollywood producer's office with an idea for a television network that will change America. Really Bad TV is just the thing to entrance the American viewing public. It's up to girlish FBI Agent Karen Sympathy to join forces with Rocky and Bullwinkle to stop the heinous trio from taking over television.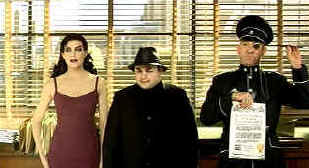 A cut above the usual cartoon villains?. ŠUniversal
Too bad there are more clever lines. There's enough talent to deliver the comic dialogue to perfection. In looking for the right style to define Fearless Leader, Robert De Niro chooses an accent reminiscent of Hogan's Heroes Colonel Wilhelm Klink, maybe not the most imaginative choice, but he's got a funny look. You've got to hand it to Jason Alexander. He just hunches down into his clothes effectively as Boris. Rene Russo is quite engaging as Natasha. She gets extra points for wearing all that make-up. Piper Perabo is sickly sweet as Karen Sympathy. Maybe fans of the television show will find some of the live action portrayals of cartoon characters more rewarding.
The Adventures of Rocky and Bullwinkle is just a mite too enhanced; otherwise, the colorful costumes and bright lighting pop off the screen with animated glee. The image is consistently sharp. The DTS and Dolby Digital 5:1 soundtracks offer plenty of bass and ambient surround information to enhance the cartoon machinations.


Selections from the Feature Archive include articles on Akira Kurosawa, Frank Darabont, Blonde Bimbos, Hollywood Street Gangs, or Vietnam: The Hollywood Pariah, and many more....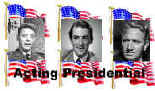 What actor would you vote whose screen persona best exemplified the fabric of the president of the United States? Check act Acting Presidential for a look at the many actors who have coveted The Oval Office.
---



Cyber Theater is an outstanding source for accurate video information. Check out their 16 x 9 format guide for a thorough understanding of DVD encoded that way.
---
.

The online site for Film Comment Magazine includes all the information you need to know about cinematic events sponsored by the Film Society of Lincoln Center.
---


European film portal and hard to find video store.
---