Thunder Road/C+,B
MGM/1958/93/FS 1.33/BW
Lucas Doolin is the king of the moonshine road. Doolin delivers home made booze in tanks installed in heavily customized cars. Doolin's rough and ready attitude rankles some of his fellow Kentucky still brewers, and when a city bootlegging syndicate begins buying up local stills, a road war breaks loose. It's syndicate versus the independents with the Feds moving in on everybody.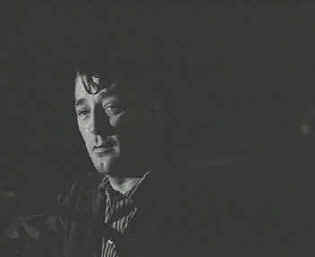 Mitchum behind the wheel. ©MGM
Robert Mitchum is the top man behind the wheel and the top man behind this production, acting as producer from his own story. Mitchum's cool élan under any circumstances is perfect for Doolin. There are lot of close-ups behind the wheel with Mitchum's tired eyes cannily picking up cars in pursuit of his pay load. Singer Keeley Smith plays a singer in love with Doolin, and yes, she gets to exercise her musical talents a bit. Jim Mitchum, Robert's son, plays his Dad's kid brother, mooning about hungry for his own chance at road running. Gene Barry is the Federal Agent dutifully pursuing the bootleggers.
The road chases are well filmed, but there are too many of them. Some of the politics of the locals are interesting. Mitchum is interesting in direct confrontation with the bad guys, but the entire Fed involvement siphons some of the thunder from the moonshine wars.
Film elements for this DVD transfer are in good shape. There's little dirt or scratches to mar the image. Contrast is adequate but could have used a bit more pop. Mono sound is without hiss. A theatrical trailer is included int he package.

The Movie Poster Archive include extensive poster images from the films of stars like Susan Hayward, Kirk Douglas, Katharine Hepburn and many more. This month's featured star is Robert Mitchum
---

Click on the DVD MIA symbol for profiles of DVDs missing in action.
Add films to the DVD MIA Master List by filling out a simple form. Click Here
---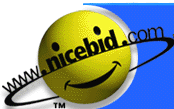 Nicebid.com is a well organized auction site. Movie fans can browse through the movie section for posters and star photos.
---


Venerable electronics industry magazine with excellent online selections from their hard book.
---


Looking for information about widescreen movies and hardware. The Widescreen Movie Center is the place to go.
---
They may be judgmental, but that's the point, isn't it. Lots of DVD reviews plus news and more.


Click on the link to visit the judge's chambers.
---

Need a daily fix of movie quotes. Reel Quotes Newsletter has the answer. Click on the Reel Quotes symbol for more.
---