Pitch Black (SE)/B,A-
Universal/2000/112/
Pitch Black is really pretty good. With a very quick set-up it never stops moving forward toward the inevitable. It is derivative and in some ways it will remind you of Alien, even down to the tenticled night creatures, but solid writing and directing give Pitch Black it's own voice.
A space ship with 40 or so passengers and crew traveling in hibernation runs into unexpected trouble. They are thrust from sleep into the nightmare of a disintegrating ship. The captain's a quick die and number two, a pretty lady, takes on the controls to bring the ship to a safe land harbor. Lots of pyrotechnics and thumps and crunches later, the survivors collect themselves on a unique, three-sunned, planet. One of the sun's blue glow provides cinematographer David Eggby powerful ammunition for a variety of startlingly gorgeous images.
Once on the planet, the small band of survivors face multiple dangers. Led by the pretty Fry in reluctant command, and assisted by pushy cop Johns, the group must first deal with the elements and then with escaped criminal Riddick before finally facing the ultimate menace. Survival is a tenuous challenge and the script is fraught with surprises, well reasoned surprises I might add.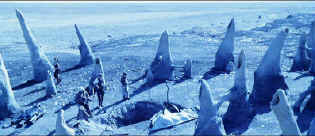 It's cool to have a blue sun. ŠUniversal
Vin Diesel as Riddick, is a convincing tough guy, muscled with clipped dialogue delivered in a deep testosterone voice and a nice little "eye polish." I've never seen actress Radha Mitchell who plays heroine Fry before, but she's appealing and energetic enough, though perhaps some underbelly angst could have made her jump my bones a trifle more. Cole Hauser is effective enough as Johns and Keith David, a great ensemble player, dressed in Arab clothing, adds a sense of style to the chase.
Writer/director David Twohy does an outstanding job of keeping this space/horror adventure on track. Twohy's editing is happily restrained. I have grown tired of action distilled through frenetic cutting. Twohy allows the viewer to understand the action. The special effects work is delivered with maximum impact. The combination of visual power accentuated by the sonic thrust keeps Pitch Black running on high octane fuel. As a writer, Twohy has delivered some excellent action and scifi scripts, including The Fugitive, Waterworld, and The Arrival. The later film, a snazzy scifi exercise in originality, was also directed by Twohy.
The Dolby Digital 5:1 and DTS sound both really rock on this DVD. The swooshing of the space creatures inhabits the home theater air with eerie effectiveness. Bass drop kicks are effectively delivered. Vin Diesel's dialogue is a little difficult to understand at times, but overall this is sound to cry for. I'd probably give my vote to the slightly more aggressive DTS tracks.
Pitch Black has been turned into an outstanding DVD. Great care must have gone into the transfer with a plethora of lighting conditions to deal with and lots of dim lighting. The DVD is sharp without enhancement and the colors are subtle. There's virtually no film grain and the special effects are captured with ghostly precision.
There isn't any sex in Pitch Black, so the unrated special edition simply piles blood and gore to a somewhat higher level. The R edition is three minutes shorter and is also available as a special edition. Two commentary tracks are at the heart of the special edition. On track one, director Twohy joins actors Vin Diesel and Cole Hauser to reminisce about the film experience. There's a chattiness to the group, as is often the case when more than these tracks are put together with a group, but it's fun. On the other track, Twohy joins special effects supervisor Peter Chiang to deliver commentary on that aspect of the film.


Selections from the feature archive include articles on Akira Kurosawa, Frank Darabont, Blonde Bimbos, Hollywood Street Gangs, or Vietnam: The Hollywood Pariah, and many more....

Body Parts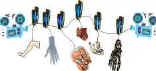 Hollywood's long fascination with parts of the body is explored piece by piece.
---

The Movie Poster Archive includes extensive poster images from the films of stars like Susan Hayward, Kirk Douglas, Katharine Hepburn and many more. Our featured star is Tyrone Power.
---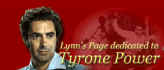 An elegantly presented fan site dedicated to one of Hollywood's great action stars.
---

Direct from the corridors of the Home Theater Forum, Home Theater Talk is the newest place on the Net to discuss everything home theater. Friendly atmosphere and knowledgeable folks are the secret ingredients.
---


Excellent resource for movie review links, with many early looks.
---


First Run Features boasts a library of independent and foreign features available on DVD and VHS. Check out their web site for catalog details.
---


News, information, features about current films in theaters and in the pipeline. Easy to use interface.
---