Movies about obnoxious characters going through life crises are difficult to pull off. Leaving Las Vegas, one of the more successful films traveling these waters, steered a solid course through the rapids on the power of a sagely likeable performance from Nicolas Cage as the tortured alcohol addicted Hollywood screenwriter. Permanent Midnight delves even deeper into the filth of addiction, and while Ben Stiller's performance as the out of control Hollywood writer possessed by drugs is thoroughly gripping, the character of Jerry Stahl fails to command the sympathy that his counterpart in Las Vegas communicated. I don't think it is the result of artistic interpretation but of the darker nature of the screenplay. Leaving Las Vegas also has a powerful balancing performance from Elisabeth Shue, and while the ladies in Permanent Midnight are all very good, they are cardboard next to the painfully vital performance by Stiller.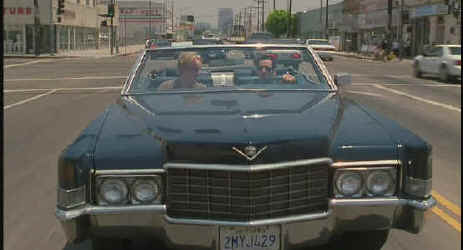 Stahl cruises LA on drugs and ego.©Artisan
The movie is given a consistent visual look and a vital editing style that develops a rhythm measured perfectly to the flow on the story David Veloz makes a powerful directing debut with this film. Veloz also shares credit for the screenplay with Jerry Stahl, on whose experiences Permanent Midnight is based. Wisely, the film is structured beginning with Jerry's final moments working the burgers as part of a rehab program. Hope remains afloat on the river of Jerry's misery. Yet, in these first scenes, there is a sense that Jerry will fall back into a world of drug despair.
Jerry recounts his arrival in Hollywood, a young man with all the cynical confidence of a guy moving three hundred miles an hour through a traffic jam. An introduction to a beautiful television production executive looking for green card help gets Jerry a step up in the industry. The marriage of convenience turns into an intimate relationship marred by Jerry's drug abuse. In fact, you have to wonder why this relationship blossoms at all. The ins and outs of Jerry's writing and personal interaction is related in penetrating detail as the writer looks back on his bleak Hollywood existence.
The supporting players are all uniformly good but they truly serve to support the death defying drug acrobatics of Ben Stiller. Elizabeth Hurley is poshly cool as Stahl's "green card" wife Sandra, Maria Bello is a delightful and pretty new face as Stahl's new love Kitty and Owen Wilson continues his winning streak by creating another quirky character as Jerry's buddy Nicky.
Permanent Midnight is photographed with a bright and clear vision by Robert D. Yeoman. Nothing is hidden behind the artifice of the lens. The layered editing punctuated by elegant dissolves or jump cuts by Cara Silverman and Steven Weisberg enhanced the grammar of the film brilliantly.
Permanent Midnight is a breathlessly stunning DVD transfer. The anamorphic images are consistently sharp. Background detail is finely delineated. There are no unsightly artifacts resulting from an overzealous desire for more detail than NTSC video can handle. A few glimpses of slight edge enhancement are barely visible, but they do not detract from the pristine perfection of this DVD. The soundtrack is perfectly tuned tot he material. Hollywood party atmosphere invades the home theater space smartly. The beat of the music that surrounds the characters in a car or at a party never overpowers the dialogue. Now add in the bonus of a director's commentary and deleted scenes and you have a DVD package of the first order.