Don't panic when you see the credits jumping. It's a bit of personal Waters nostalgia. Writer/Director John Waters once again uses Baltimore as the setting for his latest exercise in outrageous moviemaking Pecker. Waters loves to break a scene with a sense of chaos. There is a spirit of anarchy about Waters' filmmaking. Anything goes and if there's an off-kilter way to look at something, you can be sure this champion of the uncommon common man will find it.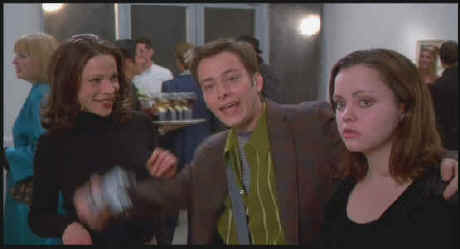 Taylor, Furlong and Ricci making the Waters scene©New Line
This is really mild-mannered Waters. Pecker is a young would-be photographer roaming Baltimore's streets taking snapshots of everyone and everything. In between snaps he slings hash at a coffee shop and hangs out with his girl friend at her Laundromat. Once in a while he visits his sister at the gay strip club where she's a bartender and he often sneaks off for a peak in the basement window at the action of a lesbian strip joint across the street from his father's bar. His Mom runs a thrift shop with apparel cheap enough for a clientele of homeless folks. His sister subsists on copious sugar binges. Pecker is such a nice kid he even finds time to spend with his Grandma who has a room in the family abode. He room is a shrine to a Virgin Mary doll that miraculously talks through Grandma's transparent ventriloquy. Pecker's enthusiasm leads him to present a show of his photographs at the coffee shop(The proprietor insists that anyone viewing the show must buy something.)When a hip New York photography gallery owner happens on the show, she embraces Pecker's work and the hype machine is revved up. It's no surprise that Pecker's world changes on the fly. The results, however, are not as deliriously comic as you might imagine.
Edward Furlong plays Pecker as the original innocent. His performance is especially flat in contrast to the Waters terrain. Christina Ricci has some strange moments as his girl and Lili Taylor is preciously smarmy as Rory the gallery owner.
Listening to John Waters comment on Pecker is infinitely more entertaining than watching Pecker in its movie only form. Commentary Gems from Waters: "Wig snatching used to be a big problem in Baltimore."; "The extras in Hollywood look like people who came in second for the Bay player roles."; "I guess animals can't jerk off. It's a real problem in the animal kingdom."; "I think Laundromats are sexy too. Everyone thinks about sex in a laundry because they're bored."; "You look at the most expensive from Japanese cutting edge fashion and it does look like rags from the homeless people. It's just a difference in budget but it's the same look." In addition to Waters' wisdom there's an on camera interview with Chuck Shaccochis whose photography was used in Pecker.
Pecker defaulted to English subtitles, a minor pain. The Waters look is outré plastic. Colors are intense, the soundtrack consistently upbeat. This anamorphic transfer is sharp and delightful to look at. The neon glitz of seedy Baltimore nightlife gets the high key treatment from Waters and the DVD production team. Like the image, the upbeat Dolby Digital 5:1 soundtrack by Stewart Copeland is outstanding.