Mountains of the Moon is the story of explorers Burton and Speke and the hunt for the source of the Nile. After a spectacular opening the film winds down to a droning pace. Too bad. So many good elements. Big story. Great character in Burton with a fine performance from Patrick Bergin. I think director Bob Rafelson was too restrained in playing down the dramatic potential of this story. Even the actual discovery of the source of the Nile, Lake Victoria, if you could call it a discovery, is played down. But through it all the film often has the power to mesmerize a viewer. African landscapes framed by sunsets with safaris wending their way over mountainous terrain is a no brainer for a cinematographer.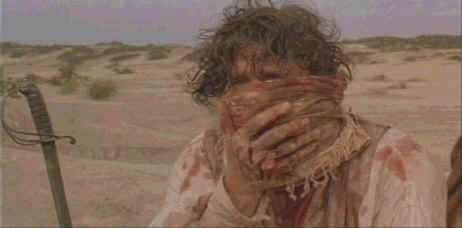 Burton holds a bandage to his wounds©Pioneer
Rafelson mixes many fine details into this spirited brew. This was Rafelson's baby. He based the script on the journals of Sir Richard Burton. I guess he's just too referential to the material. The casting is outstanding. Whatever happened to the star that should have belonged to Patrick Bergin. The man does command the screen. He's very charismatic and brings off the adventurous spirit of Burton with flying colors. Iain Glen does a credible job as Speke, but his character has less flamboyance and it shows in the performance. Fiona Shaw brings great spirit to the role of Burton's bride. Why is that so many English actresses look so natural in their surroundings? The little imperfections, like teeth that look natural, or hips slightly broad.
The film cinematography by Roger Deakins could have been served better. Mountains of the Moon appears to mastered from composite elements for DVD as there is cross color in some clothing patterns. Overall there is a slight softness to the DVD. At least there's no obvious edge enhancement. Color is respectable. The differences between the English and African color schemes works well. Africa has a film of gauze that blanches out everything to a slight degree except during the nights of course, and England is very proper, deeply contrasted. The Dolby Digital 2-channel sound includes some powerful effects in the surrounds. Dialogue is consistently easy to understand and the music of Michael Small has plenty of air and sweep.