Letters from a Killer(SE)/C-,B
Sterling/1998103m/ANA 1.78/
Somebody must have thought they had a good idea here. Convicted wife murderer Race Darnell becomes a best selling death row author. (We never do find out what the book's about. Maybe they should have made a movie from that material.) During the seven year internment, he continues the legal battle for freedom from the crime he didn't commit. His best seller attracts many letters from lonely and sympathetic women. The Letters from a Killer in this case on delivered on tape as Darnell strikes up a passionate tape correspondence with a quartet of the ladies. Each of the women thinks she is the only one. In prison, there's the sympathetic guard and the nasty guard and the stupid guard, but prison isn't the focus here. Before long, in an embarrassing scene, Darnell's attorney tells him a new witness has surfaced and Race soon has a new trial and freedom.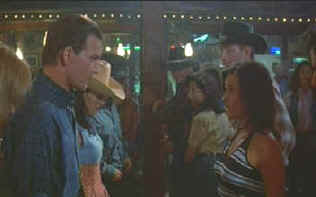 Don't expect to find any dirty dancing here. ©Sterling
Freedom isn't all is peaches and cream. One of the women is out for revenge because she has discovered Race has been unfaithful. The suggestion here is that women who correspond with men on death row must be nuts themselves. Race does all the wrong things, never goes to the police for help and as the plot thickens with sickening predictability, Race is on the run from the unknown woman and the police.
The script is constructed with little logic or polish. Characters are paper thin. The situations ring false at every turn and chases are plain silly. The murder set-ups are unconvincing. You do the math.
Patrick Swayzee plays Race Darnell in a somnambulistic stupor. He must have been thinking "what did I do to deserve this flick?" Hopefully, he got a good pay day. And Swayzee's performance may actually be the best in this dull-witted thriller.
Packaged as a special edition from Sterling, the DVD includes audio commentary from director David Carson. There are video interviews with the director, producer and cast members that do little more than explain the characters and situations. There's also a video montage, theatrical trailer, a trivia game and nine additional trailers (That's right, nine) from the Sterling catalog.
The transfer is pretty decent. It doesn't have much snap, but it's reasonably sharp. Colors are fine. I am not sure if the dull material numbed my visual sensibilities, but the DVD seemed thoroughly unexceptional. The Dolby Digital 5:1 sound, with a score that pounds emphatically at every portent moment, is very good. There's a fair amount of information encoded to the surrounds, and the dialogue is painfully clear. The best thing I can say about this movie is that I watched it through and did not fall asleep. I'm glad I didn't have wine with dinner. On second thought, maybe I should have had a whole bottle.
The Movie Poster Archive include extensive poster images from the films of stars like Susan Hayward, Kirk Douglas, Katharine Hepburn and many more. This month's featured star is Edward G. Robinson
---


Black DVD Online is a new site dedicated to black film content on DVD. The commendable enterprise is hosted by Webmaster Samuel L. McLemore, Jr. and presented in an attractive interface.

A love of movies drives this small DVD production company, Synapse Films. Currently specializing in horror and cult films. Watch for new DVD releases of film festival independents as Synapse branches out..
---

Sight and Sound Magazine is the venerable voice of The British Film Institute. The site includes articles and film reviews. A great resource in print and on the Internet.
---
Choko Movie Posters
The popular Paris movie poster store makes it's way to the Internet with an outstanding selection of French Movie Posters. Many beautiful images on display in a searchable data base.
---

Direct from the corridors of the Home Theater Forum, Home Theater Talk is the newest place on the Net to discuss everything home theater. Friendly atmosphere and knowledgeable folks are the secret ingredients.
---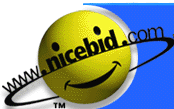 Nicebid.com is a well organized auction site. Movie fans can browse through the movie section for posters and star photos.