Joe Kidd/B-,C-
Universal/1972/88m/WS 2.35
It's always great to see Clint squint his way through a Western. Joe Kidd may not stand as tall as some more mythical Eastwood cowboy heroes, but the film is directed by the great John Sturges and Robert Duvall gets to ride a horse and shoot a gun as the villain. Good enough ingredients to make Joe Kidd eminently watchable.

Riding down ChamaŠUniversal
Joe is the town eccentric. When we meet him he's spending the night in jail for disorderly conduct. Part of his irascible charm. Hs time before the judge collides with a Mexican terrorist attack on the court, led by Luis Chama and though Joe is aloof he decides to save the judge. When one of the Mexicans searches for the judge in a bar, Joe is forced to pull the trigger. Enter land baron Harlan who is putting together a "hunting party" to eliminate Chama. Joe is recruited but spurns the job stating he's got nothing against Chama. An incident at Joe's ranch quickly changes his mind and before you know it he's guiding the hunters. It doesn't take long for Kidd to realize the hunters are unworthy allies. Kidd challenges everybody within talking distance and manages to have final confrontations with everyone who has a nasty word to say to him.
A decent Western. I like how Sturges strings out his posses against the Western mountains. Reminds me a bit of the way he filmed The Magnificent Seven. A Nice score from Lalo Schifrin adds to the big country. Eastwood is solid as Kidd and Duval plays villain Harlan with straight ahead malevolence. John Saxon flexes his eyes as Luis Chama. Sturges keeps things moving with little downtime for the action. Elmore Leonard's script is horseback pedestrian with little evidence of his signature character eccentricity.
Unfortunately, this DVD suffers from significant over-enhancement. The result is jumping horizontal edges, excessive jagged diagonals and an often totally distracting picture. Master shots suffer the worst with small details shimmering maddeningly. My guess is this is from a composite master. It's certainly sharp enough with the added edge work and the colors are quite fresh. The mono soundtrack is clean and Lalo Schifrin's twanging score has plenty of pop.

The Movie Poster Archive include extensive poster images from the films of stars like Susan Hayward, Kirk Douglas, Katharine Hepburn and many more. This month's featured star is Doris Day.
---

Need a daily fix of movie quotes. Reel Quotes Newsletter has the answer. Click on the Reel Quotes symbol symbol for more.
---


They may be judgmental, but that's the point, isn't it. Lots of DVD reviews plus news and more.


Click on the link to visit the judge's chambers.
---


Reliable and friendly DVD sales service has been a hallmark of Digital Eyes for more than three years. Home to Robert (Obi) George's DVD reviews.
---


DVD Demystified makes it all clear.The official Internet DVD FAQ for the rec.video.dvd Usenet newsgroups.
---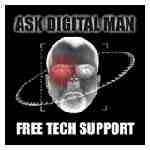 Ask Digital Man is the web's only 24-hour, totally FREE source for all your home theater, DVD, Dreamcast, PC, and Networking tech support needs!
---