Jaws (SE)/A,B+
Universal/1975/125/ANA 2.35
Timed to perfection with hot beach days ahead, Universal is delivering the special edition of Jaws in it's July wave of DVDs. Steven Spielberg's delectable entertainment clearly stands the test of time. The director successfully walks the balance beam between heart-pounding tension and overblown theatrics. Jaws seems to get better with every viewing, preening on its own elemental simple beauty.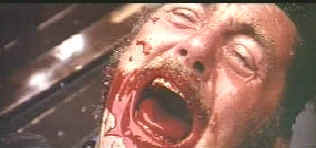 Robert Shaw gurgles his way through an outtake. ŠUniversal
For those of you who have never ventured to the sands of Amity Island for this terrific thriller, Jaws relates the events surrounding a New England beach community when a great white shark comes a visiting just in time to put a cramp in July 4th celebrations. It's up to the chief of police Martin Brody, a New York cop hoping for a calmer life at the beach, young hot shot expert from the local Marine station Matt Hooper, and salty veteran of the shark wars Quint, to catch the hungry predator and save Amity's summer season. Battling the shark for newly found favorite territorial feeding place is not your typical game fishing foray. Jaws has so many things going for it. Spielberg really puts the pieces together with great confidence. The editing is flawlessly timed. The film moves at a splendid pace, maintaining tension, without undue hyped embellishment. The John Williams score is masterfully simple, raising the recurring Jaws theme with varied tempos. Bill Butler's polished and assured photography gives director Spielberg every shot his heart desires. Even the mechanical shark cooperates for a few bold takes.
. Watching the work of actors Scheider, Dreyfuss and Shaw suggests their pleasure in this play act. There's terrific communication between them as they muster all their courage to battle the shark. Scheider brings a tired gravity to the role of Chief Brody. He's the guy pulled in to a nightmare beyond his wildest imagination. Dreyfuss's fresh-faced college boy demeanor is perfect for Hooper. But it is Shaw that pulls them together with a humorous ferocity. His Quint is the just the guy to stand up to this big shark, though he may get more than he bargained for. Oh yes, and don't forget to catch author Benchley playing a TV reporter on the scene at Amity. You can almost believe he knows what he's saying.
All the elements add up to an intense two hours that pass by like thirty racing minutes Caution should be exercised before allowing the impressionable to partake of this powerful dip in the water.
The Making of Jaws, the accompanying Spotlight on Location documentary, runs about one hour. The footage has been edited from the original documentary made for the laser disc special edition of several years ago, pared down from the original two hour running time. A couple of out-takes and a generous sampling of deleted scenes are presented separately. The documentary moves almost as fast as the film itself. Commentary by the principals is generous. Steven Spielberg recalls that his favorite scene is the tale of the sinking of the Indianapolis. Originally scripted by Howard Sackler, then re-done by Spielberg, the final speech was re-written by Robert Shaw. The scene is also my favorite in Jaws. Other interesting tidbits include Spielberg's first two choices for the role of Quint, Lee Marvin and Sterling Hayden, neither of whom were available. Shaw was suggested by Brown and Zanuck, having worked with them in The Sting. The documentary shares a great deal of the challenge of making this film, from the innovative camera work by Bill Butler to the daunting task of tooling a convincing amnitronic shark. Along with director Spielberg, producers David Brown and Richard Zanuck, screenwriters Carl Gottleib and Peter Benchley, actors Richard Dreyfuss and Roy Scheider and composer John Williams, share their memories of making Jaws.
The transfer elements are rock solid resulting in a consistently crisp picture. You can delight to the sparkle in Shaw's eyes as he enjoys the chasing his fate or remembering the past or even discern the startled eyes in the shark cage don't look too much like those of Richard Dreyfuss. The bleached out look of the beach scenes works very well in this DVD presentation. Colors still manage to stand out vibrantly under the hot sun. Presented in Dolby Digital 5:1 surround (Also available in a DTS version with the same packaging.), the score fares best. It moves in and out in sense of depth, echoing the movement of a shark through the water. Surround information is not very aggressive, though I recall one dramatic front to back pan that almost made me duck.
---


Selections from the feature archive include articles on Akira Kurosawa, Frank Darabont, Blonde Bimbos, Hollywood Street Gangs, or Vietnam: The Hollywood Pariah, and many more....

The Exquisite Muse of Zhang Yimou



The powerful image-making of Zhang Yimou has revealed itself in virtually every film he has made. Coupled with his remarkable collaboration with actress Gong Li, Zhang's has built a stunning body of work Click the image to read all about it.
---

The Movie Poster Archive include extensive poster images from the films of stars like Susan Hayward, Kirk Douglas, Katharine Hepburn and many more. This month's featured star is James Mason
---


Frank Darabont is the cover interview in the current online issue of Fade-In Magazine. Check it out along with other savvy features of this excellent book
---


Doug Pratt's been doing almost longer than anyone in the business, reviewing laser discs, that is, and now DVDs too. The venerable Laserdisc Newsletter has been publishing since 1984. Pratt probably has a large enough stock of laser discs in his house to build a DVD-proof bomb shelter. Check out his on-line reviews at DVDlaser.com.
---
Avid-Collector Posters



Great selection of big foreign paper, plus the home of J. Fields linen service.
---

A great place for movie lovers and techies to visit for exchange of ideas. New speedy interface is an inspiration for more dialogue.
---

Kinoeye Archive
This is a resource of all content-rich materials on the web relating to Central and East European cinema. The ultimate aim of the Kinoeye Archive is to provide a near-as-damn-it definitive index of intelligent and thoughtful English-language analysis of Central and Eastern European cinema on the web.
---

Direct from the corridors of the Home Theater Forum, Home Theater Talk is the newest place on the Net to discuss everything home theater. Friendly atmosphere and knowledgeable folks are the secret ingredients.
---