Hudsucker Proxy B+,B+
Warner/1994/111m/ANA 1.85
The Hudsucker Proxy is wildly entertaining. It may not always work, but it is an original work of grand comic vision. In its fabulously stylized look, the "Hud" could have easily erupted into musical comedy. Two parts Terry Gilliam, one part Preston Sturges, one part Frank Capra, the Coen brothers have shaken it all together in an art deco glass frothing over in ebullient chemical reaction.
The set design of The Hudsucker Proxy is an absolute joy and the film would be worth seeing if for no other reason than to tour the magic frames of celluloid which combine to make this architectural amalgam. Dynamic camera set-ups and outstanding special effects contribute to the tantalizing concoction carefully put together by these filmmakers.
Tim Robbins is the wonderfully goofy Norville Barnes. Casting Robbins is a stroke of genius. I cannot think of another actor who could have looked so silly and sincere at the same time without losing audience credibility. Barnes' conspiratorial promotion coinciding with the unpredictable down fall (sic) of Waring Hudsucker is executed in blazing fashion. So breathless is the pace, it is difficult to enjoy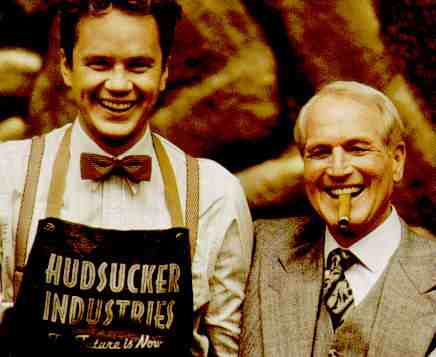 the many details surrounding Barnes' world that the filmmakers have obviously tittered over. Paul Newman brings a generous measure of unctuousness to his role as Sidney J. Mussburger, manipulative power behind the throne of Hudsucker. It's one of Newman's best screen appearances in years and a daring departure from his previous output. Where The Hudsucker Proxy falls glaringly short of cinema perfection is in the performance of Jennifer Jason Leigh, playing a reporter sniffing out the suspicious financial shenanigans brewing at Hudsucker Industries. Leigh chooses to affect an accent crafted after Katherine Hepburn's madcap comic screen appearances and it dominates her performance with a long, insufferable, sour note. That it doesn't totally topple the Hudsucker tower is a tribute to the overall strength of the material.
While kids might enjoy this delightful fantasy from the Coen brothers, it is truly a feast for film lovers and an ode to movie making. The image of the as yet defined Hula Hoop and the phrase, "You know, for kids," will always have the ability to bring a smile to my face.
Warners has delivered The Hudsucker Proxy with consistently sharp images. Color depth is fine, though some slight bleeding of reds occurs in a few instances. The outstanding production design is really showcased by the DVD format. Shadow details are outstanding and all the delights of the Hudsucker world are revealed with delight. Contrast has good pop except for the very opening skyline moments, which seem slightly over-bright.

Check out these selections from our DVD Review Archive. New releases are constantly in our face, but catalog gems should not be forgotten.
---

The Feature Archive has articles ranging from Akira Kurosawa to Blonde Bimbos and John Ford.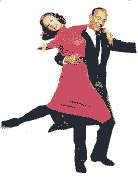 Fred Astaire and Cyd Charisse bring Silk Stockings to life, a remake of Ninotchka, one of many films successfully turned into musicals by the Hollywood dream factory. Read all about remakes into musicals by clicking on the divine dancers.
---


Gary Morris's insightful publication Bright Lights Film Journal turns the celluloid in films from a unique perspective. Click on the image above for more pure movie views.
---

Sight and Sound Magazine is the venerable voice of The British Film Institute. The site includes articles and film reviews. A great resource in print and on the Internet.
---


You won't want to miss the online iF Magazine. You may have guessed iF stands for independent film.
---

Frank Darabont is the cover interview in the current online issue of Fade-In Magazine. Check it out along with other savvy features of this excellent book