Felicia's Journey (SE) /A-,A
Artisan/1999/116/ANA 2.35
You might say Felicia's Journey is a reflection of Atom Egoyan's journey as a director. Always interesting, this is the director's most polished work. A chill runs through Egoyan's oeuvre, but with this latest film, a more mature sympathy for the characters comes through. Though I admired the writer/director's work, this hint of warmth is a welcome addition.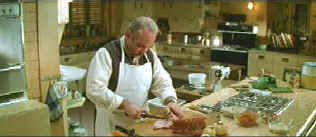 Meticulous preparation makes the meal. ©Artisan
A young woman makes the journey from Ireland to England to find her lover. Her journey is precipitated by estrangement from her father. She meets Hilditch, a factory food service manager, by chance, as she searches for a lawnmower factory where she thinks her boyfriend works. Hilditch is kind, helpful, and after several meetings, he and Felicia form a bond. Hilditch lives alone, surrounded by artifacts of his past. He follows routines in his life as slavishly as he follows the cooking show recipes that accompany his kitchen preparations. As Felicia and he become more involved, more questions arise about Hilditch with Hitchcockian perversity. Hilditch is a character that belongs alongside Peeping Tom's (Michael Powell) Mark Lewis or even Psycho's (Hitchcock) Norman Bates.
Bob Hoskins is simply amazing in the role of Hilditch, the factory food service manager, a slave to his childhood horrors. Hoskins keeps Hilditch under perfect control in his kitchen as he meticulously follows the television instructions of an old cooking show, then sits down to formally dine on a feast fit for celebration. The actor communicates that something is amiss, but the audience cannot put their finger on it. Egoyan makes these scenes extremely romantic. Camera movement, music, set details, all enhance the feeling. When Hilditch meets young Felicia, it's all so innocent, yet the edge in the actor's demeanor keeps you off balance. Elaine Cassidy is a fresh face in the role of Felicia. Together with Hoskins, she carries the film. Egoyan brings his actors to a slow boil with wonderfully paced story-telling.
Director Egoyan orchestrates each aspect of Felicia's Journey with purpose and certainty. The camera transforms the ordinary with seductiveness. The choice of the romantic ballad What a Wonderful World sung by Britisher Malcolm Vaughn casts creates a funhouse mirror cast to many scenes. Felicia's Journey makes you ponder just what goes on behind the closed doors of your neighbors.
All the secrets of Felicia's Journey are shared on a erudite audio commentary from Atom Egoyan. The writer/director's analysis brings great clarity to the mysterious journey. Filmed cast and crew interviews give further insight into the actors interpretations of the characters. In addition, you can watch a collection of seven of Hilditch's girl tapes or check out Gala's cooking show, dressed and undressed. Want Gala's recipes? You can copy them onto index cards and practice in your own kitchen, but don't get carried away. A making of featurette and trailers and TV spots complete the superb special edition package.
As graceful a transformation to DVD as you could want, Felicia's Journey is transferred with the same care that director Egoyan made his film. Consistently sharp with no edge enhancement, picture detail is splendidly rendered. Depth of color is extraordinary with excellent subtlety of skin tones. The Dolby Digital 5:1 tracks treat the music with lush, rich tones. A haunting film, a stunning DVD!

Need a daily fix of movie quotes. Reel Quotes Newsletter has the answer. Click on the Reel Quotes symbol symbol for more.
---

Check out these selections from our DVD Review Archive. New releases are constantly in our face, but catalog gems should not be forgotten.
---


The Feature Archive has articles ranging from Akira Kurosawa to Blonde Bimbos.
Join the editor and his family on a trip through Roman movie sites in this unusual feature.
---




The Big Combo has style to spare in reviewing films and producing feature articles. Check out their special "Lingo" section.
---


Reviews of affordable remote controls in the market place. Codes and tips as well.
---


DVD Deals may be the best site for all you high-tech bargain hunters. This site helps you find coupons and cheap dvds at all the major online stores.
---


Home to The American Society of Cinematographers. Includes features from American Cinematographer Magazine and more...
---