Election(SE)/A,B+
Paramount/1999/103m/ANA 2.35
Alexander Payne has written and directed a hilarious spoof of high school life centered around a student president election. Payne finds marvelously skewed points of view with just enough reality to make Election chime the bells for pales of laughter.
Some of the most precious moments include one student's reaction to the election results, anotherís sly delight on getting the news that she is being sent to an alternative educational institute and a teacherís forlorn realization that some patterns continue after high school.
Payne shows a lot more directing style helming Election than he did with his debut film, Citizen Ruth. This time out the camera aids in emphasizing the humor. The editing is slick and sharp, just as the humor never loses its bite.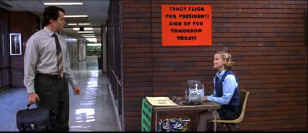 Vote for Flick or else. ©
Reese Witherspoon follows up on her Pleasantville triumph with another outstanding performance in Election. Reese plays Tracey Enid Flick, the girl most likely to succeed in any way, shape or form. She is comfortable letting herself go, letting the warts hang out, with innocent guile. This is one of the best comic roles for Matthew Broderick in many moons. His school teacher Jim McAllister is effective and sympathetic as he's sucked down a whirlpool named Flick. Broderick uses his energy to entertaining lengths and director Payne makes the most of his actors. Along with Witherspoon and Broderick, Chris Klein makes a vacuously agreeable screen debut and his sister is played Jessica Campbell with throbbing puberty.
Election is so good it is positively giddy. Everything works. The characters are believable in the environment created. The hilarity evolves naturally from the brilliant storytelling. Rolf Kent's score echoes the script's droll style perfectly. Kent's score comments on and embellishes the action. It sounds like every note was meant to count. The music unselfconsciously makes the movie funnier. Kent is a true collaborator with Payne.
Election is blessedly free of enhancement, but it is slightly soft. The glint in Flick's eyes is still evident and every hair on McAllister's can be counted as he gets more and more frazzled. Colors are bright and accurate. Overall excellent shadow balance. Lots of pop in the picture with an excellent contrast range. Skin tones are accurate. Blacks are transferred with maximum luster. Dolby Digital 5:1 surround features good ambient detail. Kent's score floats nicely above the image.
Audio commentary by director Payne is detailed and polished filled with production details.


Lady Eve, The (SE) A,C+



Wonderful classic comedy from writer/director Preston Sturges. Henry Fonda and Barbara Stanwyck star.
---

---


Selections from the Feature Archive include articles on Akira Kurosawa, Blonde Bimbos, Frank Darabont, Steven Culp, John Herzfeld or Vietnam: The Hollywood Pariah, and many more....
The Bitch Brigade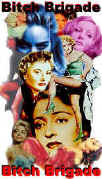 A line-up of lean-lipped actresses who marched through Hollywood in a high heeled goose step armed with razor sharp dialogue. Click on the image to read all about them.
---

Click on the DVD MIA symbol for profiles of DVDs missing in action.
Add films to the DVD MIA Master List by filling out a simple form. Click Here