Many felt this was a film that harked back to the best of Woody Allen, but it seemed to me that it was the grossest example of Allen's fascination with himself. Deconstructing Harry is like an extended session on the couch for the actor/writer/director with audience serving as a therapeutic conduit.
The clever elements to the film don't take the sting out of this sixtyish actor's unrelenting lament about his sexual problems. Weaving between characters representing aspects of the main character's personality with different actors serving as his alter ego is a clever device, albeit somewhat confusing until you get the hang of Allen's angst alleviator.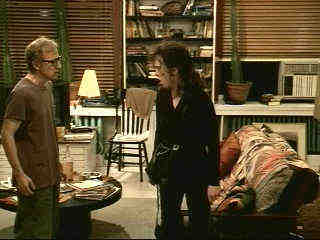 Allen angst. ©New Line
As usual, Allen has recruited a host of well-known actors to form an ensemble army in support of his vision. From Robin Williams to Demi Moore to Kirstie Alley and Elisabeth Shue, the Allen magnet draws actors. The film is well photographed with high level production values.
Deconstructing Harry is an excellent DVD. The anamorphic image makes for a comfortable film-like viewing experience. Consistently sharp with accurate and strong colors. The easy, breezy score sounds quite good. Small details in the Dolby Digital 5:1 mastering make surrounds come alive subtly.