Conan the Barbarian/C,C+
Universal/1981/129m
Original DVD Release Since Remastered
Before Arnold Schwarzenegger proved he could play a terminator with convincing realism, he had to flex his muscles as Conan. He's pretty stiff as the barbarian fated to lead a people, but he tries hard to make the comic book script by John Milius and Oliver Stone come to life. He can lift a lot of weight but he's not up to making Conan the Barbarian more than a labored, leaden effort.
Conan, orphaned in a vicious attach at an early age, grows up a back woods gladiatorial giant. When he is freed by his master, he sets out on a journey of self discovery. Along the way, after a brief stopover for some sex with a witch, he picks up some handy comrades before the final confrontation with the killer of his parents.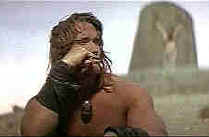 Conan the thinker.Right!ŠUniversal
Arnold maybe stiff, but you should catch James Earl Jones intoning portentous lines in a long, slick, straight black wig. You could say he's a drag on the action. Statuesque Sandahl Bergman gets to show off her body and provides some entertaining fight moves.
Conan the Barbarian is presented widescreen 2.35 on DVD. The source material seems grainy and at various times proves too much for the compression to overcome. The very dark movie lacks visual punch but is reasonably sharp throughout/. The sound is Dolby 2-channel mono.


The Feature Archive has articles ranging from Akira Kurosawa to Blonde Bimbos and John Ford.



Click on the image of The Heistmasters for an interesting feature on the tough guys that pull off the big jobs.
---


Watching Movies or Watching Video
Don't lose sight of why you bought that DVD in the first place.
---

The Movie Poster Archive include extensive poster images from the films of stars like Susan Hayward, Kirk Douglas, Katharine Hepburn and many more. Our featured star is Burt Lancaster.
---