Angela's Ashes/ B, B+
Paramount/1999/145/ANA 1.85
The unremitting vision of a Irish family enveloped by poverty, Angela's Ashes is told from young Frank McCourt's point of view. The improbable McCourt family return from America to Ireland after the sad death of their infant daughter is the opening salvo in a series of narrative gaps that prevent the full force of the powerful immigrant story to effectively charge the movie. In the end, perhaps the overwhelming bleakness of Angela's Ashes finds redemption, but I left the home theater without a requisite uplifting feeling.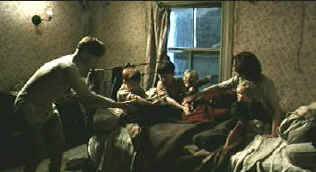 The night of the fleas
This is unusual material for Alan Parker. Most of Parker's work, often brilliant, has been slick, slick and slicker. Parker is seduced by the darkness of the original novel, and he plods rather than dances through the direction. It's a sincere effort, but it does not successfully animate the lives depicted.
Emily Watson is a family pillar, holding things together under the most dire circumstances. Watson's gravity and strength are great assets in her portrayal of Angela McCourt. Robert Carlyle captures the pathetic hopelessness of McCourt senior. The various children playing the pivotal role of young Frank are effective.
Frank McCourt provides commentary on one audio track while director Alan Parker provides his insights on another track. McCourt's observations are filtered through memories and attests to the authenticity of Parker's interpretation of his own memoirs. McCourt poses the question "Why they ever went back I don't know." It's the same question that bothered me throughout the film.
Trust me, this is difficult transfer material for DVD. The dark mood is amplified by dark cinematography. But it is reverently clean. Contrast survives through some tough original material. Lighting effectively remains faithful to the prevailing mood. Colors are somewhat muted, but again, this is faithful to the original material. Image is consistently sharp. There is some edge ringing evident in patches, but it does not further muddy the grungy look of the film. The Dolby Digital 5:1 surround is clean with good detail location. Dialogue, while sometimes difficult to understand, is located perfectly.

---

April 19, 2000
Click on the DVD MIA symbol for profiles of DVDs missing in action.
Add films to the DVD MIA Master List by filling out a simple form. Click Here
---


Selections from the feature archive include articles on Akira Kurosawa, Frank Darabont, Blonde Bimbos, Hollywood Street Gangs, or Vietnam: The Hollywood Pariah, and many more....
The Exquisite Muse of Zhang Yimou



The powerful image-making of Zhang Yimou has revealed itself in virtually all his films. Coupled with his remarkable collaboration with actress Gong Li, Zhang's built a stunning body of work Click the image to read all about it.
---

The Movie Poster Archive include extensive poster images from the films of stars like Susan Hayward, Kirk Douglas, Katharine Hepburn and many more. This month's featured star is Tyrone Power.
---